The Lagos State Ministry of education, in partnership with Asset & Resource Management Holding Company (ARM HoldCo) plans to create coding centres in public and private schools across the state under the #CodeLagos project.
CodeLagos is an initiative of the state government targeted at making coding education framework accessible to every student in Lagos and training 1 million Lagosians to code by year 2019. The programme is to be launched in April this year with about 300 coding centres of which ARM will equip 15 of the centres.
According to special adviser to the state governor on education, Mr Fela Bank-Olemoh, "ARM will be setting up 15 centres and these centres will be established in low Income schools in line with Governor Akinwumi Ambode's commitment to promoting inclusive governance and qualitative education for all citizens.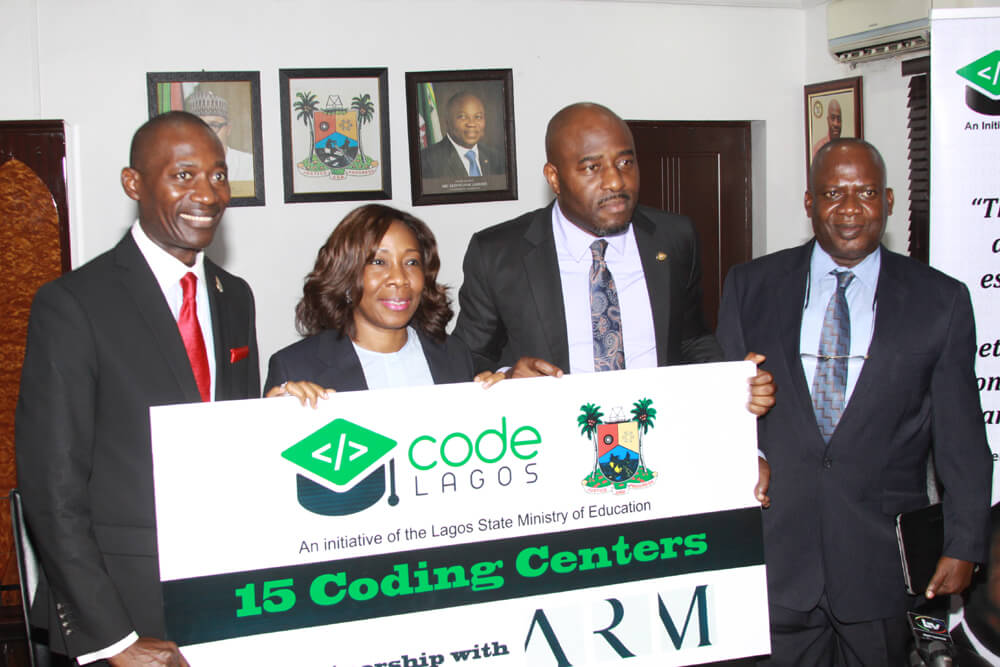 L-R: Head of Marketing, ARM, Mr. Taiwo Adeleye; Group CEO , ARM, Jumoke Ogundare; Special Adviser to the Governor on Education, Mr. Obafela Bank-Olemoh and Permanent Secretary, Office of the Special Adviser, Education, Dr. Samsudeen Allison during the launch of the CodeLagos Initiative at the Office of the Special Adviser, Secretariat, Alausa, Ikeja, on Tuesday, February 14, 2017.
Jumoke Ogundare, CEO of ARM, said the organisation was excited about the partnership with Lagos State on the CodeLagos initiative, saying the project was in line with the commitment of the firm towards improving access to quality education for all. Ogundare said over the years, ARM had demonstrated in clear terms its commitment to corporate social responsibility and given its track record, "it becomes easier to partner the state on the CodeLagos, believing that it will lead to improved digital knowledge and impact positively on job and wealth creation."
The registration and screening of facilitators for CodeLagos started last week and is ongoing. At the end of the process, 1,500 facilitators would be selected and deployed to centres across the state.
Established in 1994 as an asset management firm, Asset & Resource Management Holding Company (ARM HoldCo) offers wealth creation opportunities through a unique blend of traditional asset management and alternative investment services. ARM currently manages total assets of circa N760 billion (as at January 2017), has an AA- rating from Agusto and Co. and was named Best Fund Manager, Nigeria 2013 by Capital Finance International. The Firm is regulated by the Nigerian Securities and Exchange Commission (SEC). ARM is headquartered in Lagos, Nigeria with offices across the country.