Give your loved ones a
bright future
ARM Trustees Limited (ARM Trustees), is a wholly owned subsidiary of ARM Traditional Asset Management Company Ltd (ARMTAM); the largest non-bank financial services institution in Nigeria. We partner with our clients to protect their wealth for the future and bring immense value to transactions.
With over eighteen years experience and a team of dedicated professionals, our business and services have grown to ensure we are well equipped to create value for your businesses or manage your legacy. Our primary focus is delivery of high quality services in an efficient and professional manner.
We are renowned for our neutrality in corporate bond transactions, expertise in trust management/administration and efficient and qualitative services. In addition, the synergistic relationship ARM Trustees enjoys with its parent company, ARM, is of utmost benefit to our prospective clients.
Democratizing financial
advisory
We are "thinking and planning" your objectives with you and we have a range of options to help you make them happen…
Our Investment
Management Approach
The client's risk profile highly influences our asset allocation decisions
We review, analyse and establish your current financial position, risk tolerance, investment objectives and time horizon, with a view to developing an appropriate profile.
In implementing the investment strategy, our key consideration is to minimise risk without jeopardizing returns.
With the profile, we formulate an investment strategy that includes several assets and diversifications across sectors.
As your needs change, we modify our strategy to match the changes.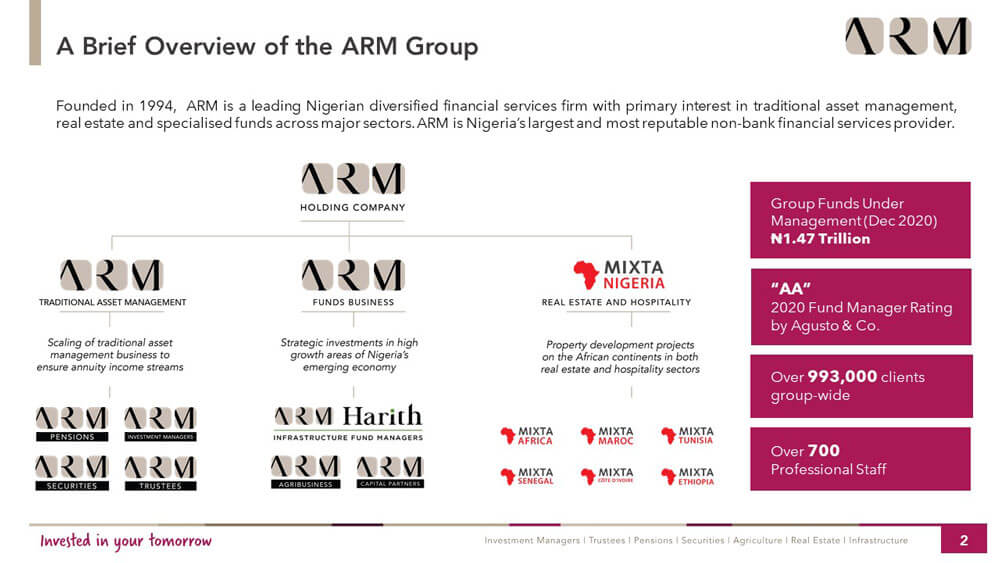 Through our parent company, we are able to provide investment management services to personal, fiduciary and custodian accounts, in accordance with the purposes of a Trust.
At ARM Trustees, we take our trusteeship responsibility very seriously. For more information on this service and other Estate Planning services, please send an email to: [email protected] or call our dedicated customer service line on 09099976779.